We all need exercise. It's good for our bodies and our mental well being.
And the old saying - "A good dog is a tired dog" can sometimes be true. A dog
who is well exercised doesn't have excess energy to get into trouble.
But can a dog get too much exercise or too much of the wrong kind of
exercise?
I've seen people take their scared, tiny dogs to dogs parks. These tiny
dogs would draw the attention of large dogs. Because the tiny dogs were
afraid, they'd run screaming. Of course the screaming would incite the
large dogs to chase the small dog. So this tiny dog is running, screaming
for his life while being chased all over the dog park.
That is exercise right?
Most folks would agree that this type of exercise does way more harm than
good.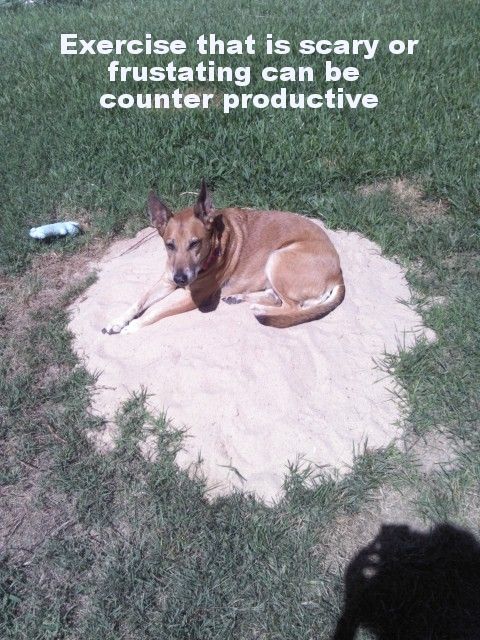 But what about the dog who stays outside all day - running the fence at the
neighbor's dogs, squirrels, the mail carriers, kids getting off the school
bus etc..
This type of exercise can also cause more harm than good.
A dog who is "on guard" all day long is stressed and can develop behavioral issues - issues
that may or may not appear to be related to the fence running.
What about dogs who go jogging or biking or even on brisk aerobic walks?
The brisk walks can be great exercise if the dog is enjoying it. But if all outings are
like this, when does the dog get to stop and watch things, or stop and
smell things? Being dragged past interesting smells can be frustrating.
Letting dogs slow down and check out the environment is especially
important to shy, fearful or reactive dogs.
When exercising our fearful dogs, we should ask ourselves if the benefit of
exercise is outweighed by the scariness of the activity
1. For some shy dogs, just leaving the house is scary. Forcing a scared
dog to go on walks before he/she is ready might be counter productive.
2. Some dogs are okay being outside, but we should choose our walking
locations carefully. Being forced to walk near scary people or scary dogs
or bikers or cars could be making our dog feel worse, not better
Additionally, pet parents need to be careful when using laser pointers (or consider not using them at all)
More details here
See more on exercise
here
Click
here
to see on a video on how to walk strategically to avoid scary things
Click
here
or see the video below on a walking meditation

Tell us your thoughts in the comments section below
Email general questions or comments to education@stubbypuddin.com
Replies might be shared on this blog but names will be changed or left out.

To get notified of future posts, click here